---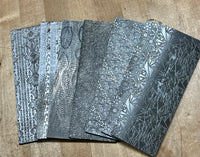 So there is no confusion, these are NOT the quality texture plates I offer for sale in my preorders every month. These are rejects I cannot send to clients who order from my preorders sales and will be either slightly imperfect, or really imperfect. So please do not hold any of these to that standard! 


SELECTION IS RANDOM! When you place an order you will get whatever I have at the top of the pile to send. I will not be digging through hundreds of designs to find something specific for anyone, as much as I'd like to be more helpful. You may also receive a texture plate that you already have. 
Conditions are (but not limited to):
*Over-etched
*Under-etched
*missing a large or small portion of design
*rust (I WILL try to clean as much of that up as I can but may not get it all: please go HERE for instructions on cleaning rust off plates if you need it!)
*Uneven or blotched design application
These plates are rejects that I could not sell to the original purchasers. There may also contain some adhesive residues and are NOT polished! 
NO RETURNS. All sales are final.