---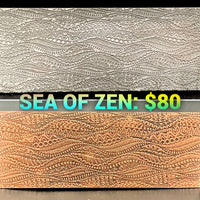 Sale
READ FULLY BEFORE ORDERING!
These plates are ONLY available as PREORDERS and can take 2-4 weeks to ship as they're made to order! 
They can be used in a rolling mill, hydraulic press or by hand with a hammer and firm medium (such as lead or a ball of aluminum foil...) to transfer the designs from the plate to your annealed non-ferrous or precious metal. 
The measurements are 2.5" Wide x 7" Long x 1/8" Thick, and are handmade out of mild steel. They are not recommended for use in an economy rolling mill but if you do, you use at your own risk. Oregon Trail Silver will not be responsible for any damage done to your equipment by using these plates. By purchasing these tools you are agreeing to these terms. 
Since I change my designs every month so I can reclaim my templates and make new designs, these plates are only available for a limited amount of time. Once these designs have been worked up and shipped to their new owners, I will have to destroy the original template to create the new one so they will NOT BE AVAILABLE again after the sale!
If you place an order and decide later to add to it, I cannot combine shipping. Each order will be shipped as it's made.